Gudsen MOZA, a global leader in gimbal stabilizers, proudly introduces the new and improved MOZA AirCross 2, a lightweight yet powerful three-axis gimbal designed with a wider camera mounting surface to support most mirrorless and DSLR cameras. Utilizing magnesium-alloy technology, the lightweight MOZA AirCross 2 provides robust performance at only 950g (2 lbs) and is fully loaded with new features to help video creators and filmmakers capture breathtaking, smooth cinematic shots on the go.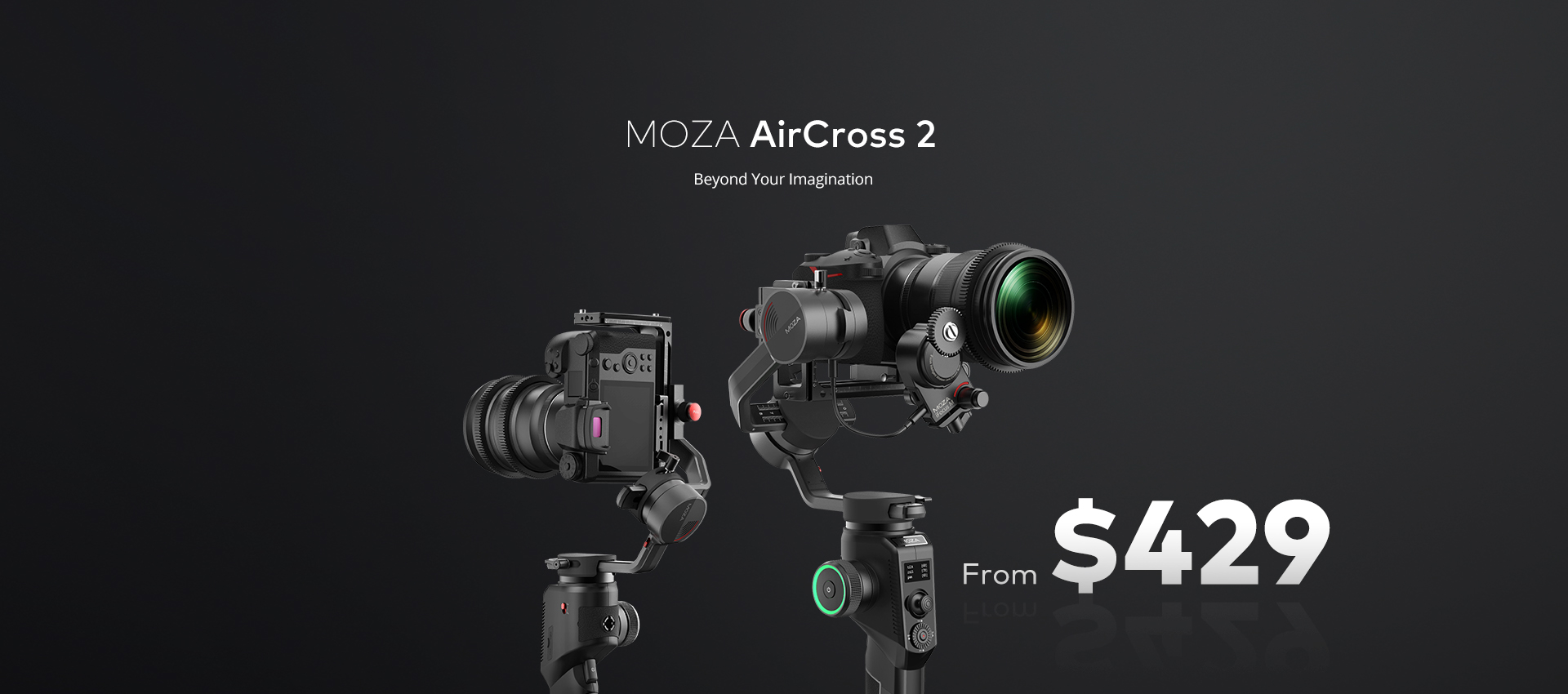 Lighter than most gimbals, yet strong enough to support a max payload of 3.2kg (7 lbs), the AirCross 2 features a three-axis lock design and now allows you to set up the roll arm at either side, allowing the camera to be mounted from the left or right side, which helps to change the center of gravity of the bearing and makes balancing easier, faster and more reliable.
The gimbal also supports both vertical and horizontal filming modes and the popular Inception Mode 3.0 is updated and improved to provide even more precise rotations with heavier camera setups.
The AirCross 2 has improved battery performance due to the Moza Spark Power Supply System 2.0 featuring a battery life of 12 hrs and faster charging at only 1.5 hrs for a full charge. Additionally, the AirCross 2 now supports USB charging for portable power.
Utilizing an intuitive control panel, the AirCross 2 has a brighter OLED screen with easy to use menu controls, a Smart Wheel to power an additional iFocus-M follow focus, and a Smart Trigger for faster autofocus. Paired with a MOZA Slypod and FPV Mode, you can create swooping cinematic shots all at the ease of your fingertips!
The Moza Master App offers new creative shooting modes like the 'Mimic Motion Control' mode with realistic axis control with your smart phone and Object Tracking for unique long takes that lock on to specific user designed targets.
The new MOZA AirCross 2's lightweight yet powerful functionality makes it an ideal option that provides video content creators everything they need to capture their vision using MOZA's superior design and technology.
The MOZA AirCross 2 is available for $429.00 and can be purchased on Gudsen MOZA's official website: https://store.gudsen.com/products/moza-aircross-2.
The MOZA AirCross 2 Professional Kit retails at $499.00 and includes the MOZA AirCross 2, iFocus-M, Phone Holder and Arca Quick Release Plate.
For additional information and Videos of the MOZA AirCross 2, please visit:
https://academy.gudsen.com/moza/product/index
About Gudsen MOZA
Gudsen is an innovative video-making equipment provider specializing in creating high-tech camera stabilizers and accessories and offering effective stabilization solution for the videography industry. We have successfully launched several impressive MOZA 3-Axis handheld camera stabilizers with advanced technologies that can support a wide range of cameras from small-sized action camera to professional large-sized cinema cameras. Our product line includes MOZA Air X, MOZA Air 2, MOZA Mini-S, MOZA Mini-MI, MOZA Air, MOZA AirCross, MOZA 2P, MOZA Pro, MOZA Guru360 Air, and MOZA Accessories. Our vision is "invented for Video" with innovative & high-quality products as well as exceptional customer service.
MOZA official website: https://www.gudsen.com/
Facebook: https://www.facebook.com/gudsenmoza
YouTube: https://www.youtube.com/c/MOZAGimbal
Instagram: https://www.instagram.com/gudsenmoza/
SOURCE Gudsen MOZA
Related Links