November 11th, 2020 - Gudsen MOZA, the innovative imaging solutions provider, today unveiled its new NANO SE, an intelligent selfie extendable gimbal. MOZA NANO SE is a lightweight and foldable selfie extendable gimbal packed with features. With the new upgraded MOZA Genie App, and the Bluetooth remote controller, NANO SE allows you to take beauty photos and smooth videos with ease at anytime, anywhere.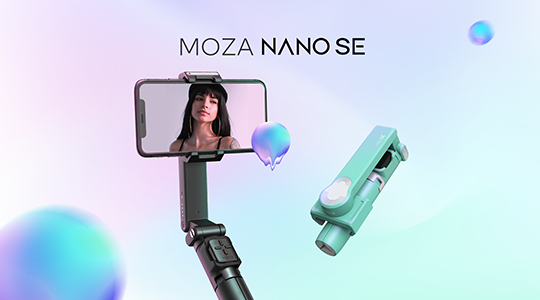 Trendy Colors to Match Your Style
The NANO SE is both functional and fashionable,offered in 4 of the most popular colors to match your personal style.
Intelligent Selfie Extendable Gimbal
The NANO SE is an intelligent selfie extendable gimbal, allowing you to create super smooth videos like the pros. Shoot videos while panning or walking without the shake.
Compact. Lightweight. Strong.
The ultra-light NANO SE weighs just 250g (approx 55lb). Its super compact form factor can be held in just one hand when folded and supports large-screen mobile phones weighing up to 280g.
Super Smart for Super Easy Shooting
l One Click to Create Masterpiece
MOZA Genie offers a wide variety of built-in creative shooting templates to make your next movie creation easy and fun. Let Magic Mode be your muse to create your own masterpiece with just one click.
l Poetry in Slow Motion
Create poetically flowing videos with Slow Motion Mode. Zoom into the details and slow time down for a creative, cinematic look.
l Capture Evolving Beauty with Time-lapse
Create interesting visual stories in Time-Lapse Mode. Capture the unfolding of stunning sunsets, a blooming flower and other beautiful life events in short artistic films.
Shoot Freely with Bluetooth Control
l Small, Portable and Detachable
Detach the portable Bluetooth remote control to wirelessly shoot from a distance. Free your hands by simply sliding out the handheld remote control.
l Wireless Dual Control
Connect the MOZA Genie APP via Bluetooth to dual control the NANO SE and mobile phone,so as to enjoy playing tricks as you like.
l Support Native Camera Control
Enjoy remote control of the mobile phone's native camera with Bluetooth connection. The Nano SE makes shooting fun, easy, and simple.
Instant Portrait and Landscape Transition
Never miss the action. Switch between portrait and landscape filming to quickly adapt to various shooting scenes and capture the perfect angle with just one click.
Explore, Create, Share All Day
With up to 10 hours of battery life, the long lasting battery allows you to unleash your creativity to freely shoot unplugged for live streaming, on travel and more.
Long Extension for Wider Shooting
With 4-stage extension, the NANO SE's expansion capability is up to 690mm (approx 27 inches) in length, making it an ideal tool for wider landscape shooting.
Tell Your Story Your Way
Travel,live streaming,Vlog,wedding,group filming,daily moments, enjoy every moments in life with NANO SE.
Price and Availability
The MOZA Mini MX retails at US$45 and will be available for order on MOZA Official Store and retail stores.
For more information on MOZA NANO SE, please visit: https://www.gudsen.com/moza-nano-se
Online store: https://store.gudsen.com/products/moza-nano-se