Dear Friends,
We sincerely invite you and your company representatives to the coming SET EXPO 2019, to be held at Expo Center Norte, Sao Paulo, Brazil from August 27 to 29, 2019.
Date: 27-29 August 2019
Venue: Expo Center Norte, Sao Paulo, Brazil
Our Booth No: #121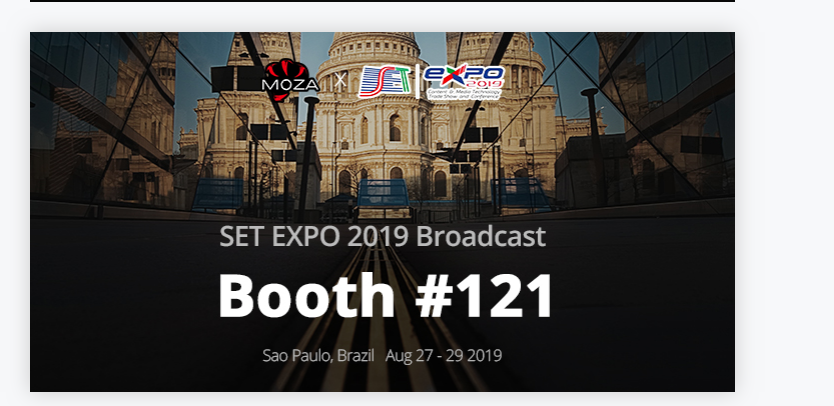 Divided into the Conference and a Trade Show, SET EXPO is the largest technology event for media and entertainment in Latin America, aiming to present and discuss technical innovations, regulations, and new products, covering the entire production chain from creation to delivery.
This year, for the conference alone 2000 attendees are expected, with an additional 5,000 at the Trade Show, from 38 countries, invading the Red Pavilion and the Expo Center Norte Convention Center to check out the novelties of 150 exhibitor companies representing over 400 Brazilian and international brands. In the exhibition, the main domestic and international manufacturers will showcase their products to an audience representing the entire audiovisual and broadcasting production chain.
We have prepared abundant surprises in the exhibition as well, including the NAB-award-winning MOZA Slypod and the incredibly anticipated MOZA AirCross 2. With the workshops set up in the booth, we can gather here to freely exchange ideas on business and social media promotion practices.
MOZA Slypod: It's the world's first motorized monopod that delivers accurate slider motion control, helping photographers do more with less. Crafted with lightweight carbon fiber material and powered by an ultra-high energy density motor, the Slypod smoothly and gracefully extends and retracts its reach.
MOZA AirCross 2: This upgraded gimbal stabilizer from MOZA AirCross is compatible with most mainstream mirrorless cameras and DSLRs, offering more solid support while weighing less than its predecessor. Features like easy setup and balancing, integrated smart control system and 3-axis lock design all come together to facilitate your film-making.
For more information on MOZA products or SET EXPO 2019, please feel free to email us or visit our website. We will be waiting for you at Booth No.121, Expo Center Norte, Sao Paulo, Brazil. Be there or be square!
Kind regards
MOZA Team