Gudsen MOZA Launches Ingenious New Products at NAB 2019
MOZA Slypod Combines Monopod With Slider And MOZA AirCross 2 Becomes Lighter And Exceptional.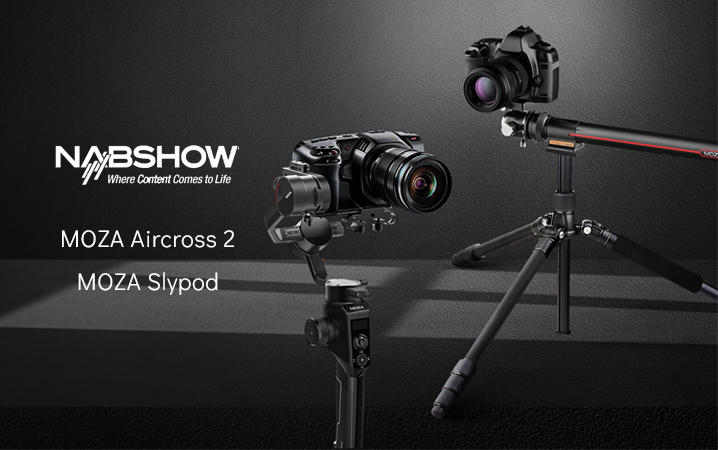 Gudsen MOZA, one of the leading pioneers in the gimbal stabilizer industry, blazes a new trail by releasing two ingenious products at NAB 2019, with the singular aim of facilitating artistic creation, and taking your film-making experience to the next level.

Slypod: The world's first motorized monopod that delivers accurate slider motion control, helping photographers do more with less. Crafted with lightweight carbon fibre material and powered by an ultra-high energy density motor the Slypod smoothly and gracefully extends and retracts its reach. Less burden and more functions to free your creativity.

AirCross 2: This upgraded gimbal stabilizer is compatible with most mainstream mirrorless cameras and DSLRs, offering more solid support while weighting less than its predecessor. Features like easy setup and balancing, integrated smart control system and3-axis lock design all come together to facilitate your film-making.

Gudsen MOZA never ceases in the pursuit of bringing about innovation and ingenuity to customers. The introduction of the Slypod and Aircross 2 is a resounding affirmation to that. MOZA will strive to inspire and unleash the creativity among amateurs and professional videographers, help them deliver ingenious and cool videos, and in so doing, making their creative style more enjoyable and beautiful.
MOZA Slypod
-
Less is More
MOZA Slypod is a 2 in 1 monopod and slider, with a high precision motion slider encased in a carbon fiber body. MOZA Slypod weighs less than a kilo, including the batteries. The carbon fiber body helps keep the weight low and improves the durability of the frame, providing support for vertical payload of up to 18 kg and horizontal payload of up to 12 kg. It's the most powerful motorized slide available in its size.
The precise drive tech was inherited from the famous Mars Rover, allowing the high density motor to generate torque of up to 1 N/m, allowing it to support a payload of up to 18kg. Regardless of the size of the lens or the camera models, MOZA Slypod is up to the task. It could accelerate from 0 to 1,000 rpm within 10 microseconds, beating all other brushless motors.
MOZA Slypod is also compatible with the MOZA app and the Handunit, giving it maximum control. You can create programmable time lapses, and adjust the sliding speed and the telescopic length with MOZA app or the remote Handunit, which is optional. MOZA Ecosystem has been tested and proven time and again, and it opens up new possibilities for photographers who want maximum control at their fingertips.
The weatherproof design of the MOZA Slypod offers maintenance-free performance and provides maximum protection against dust, wind, and sand.
MOZA AirCross 2 - Beyond Your Imagination
The second product released at NAB 2019 is MOZA AirCross 2. It has an incredibly innovative design with the positioning of the camera setting situated close to the tilt motor, allowing for better shots. You don't even need to release the gimbal from the camera. This allows you total access to the entire interface of the camera as well as the battery cover.
There's an additional bracket that allows you to quickly switch between portrait and landscape modes. The powerful motor and the exquisite mounting space make it easy for you to handle both mirrorless and DSLR cameras. MOZA Aircross 2 is compatible with a multitude of lens and cameras combos, from BMPCC 4K with its massive micro lens or the large aperture zoom lens, to the professional grade DSLR with a vertical shooting handle.
Inside the gimbal is a 3,000 mAh high capacity battery that powers up the MOZA Aircross 2 for around 12 hours. The battery has a built-in USB charging interface and can be fully charged within one and a half hours.
MOZA AirCross 2 also has a three-axis lock design that could save your time and effort. This helps secure the camera and the gimbal, and allows filmmakers to carry them around. It is compact and lightweight, with a total weight of 950g. It is one of the lightest gimbal stabilizer around.
There are multiple advanced shooting modes with MOZA AirCross 2 as well, such as time lapse mode, inception mode, sport gear mode, adding dramatic and cool elements to your shots. Multiple follow modes will make sure your needs in different scenarios are always met. Built-in algorithms could auto tune the gimbal, and therefore enhance your shooting performance.
MOZA AirCross 2 also provides flexible expansion possibilities with a 1/4' and two 3/8'screw ports. You can easily mount different kinds of accessories on the gimbal. Customizable buttons like smart wheel, dial wheel and smart trigger allow users seamless camera control, while the OLED screen provides intuitive display of gimbal status and camera parameters.
Gudsen MOZA has established itself as one of the leading forces in the industry, and that success is solely attributed to its attention to detail and relentless pursuit for excellence and perfection on its products and services. MOZA Slypod and MOZA Aircross 2 provide numerous possibilities for beginners and veterans alike, and further stands as an ongoing commitment from the Gudsen MOZA family to winning the hearts and minds of consumers.
Featured Events

Schedule

: