As the world-leading brand in gimbal stabilizers, Gudsen MOZA now reveals the pricing and availability of the new MOZA Mini-S, a 3-axis smartphone gimbal created for everyone. The Mini-S will sell for $79 USD with pre-orders beginning on April 2th and shipments starting on April 8th. Customers can place the order on official page at https://store.gudsen.com/products/moza-mini-s or other resellers.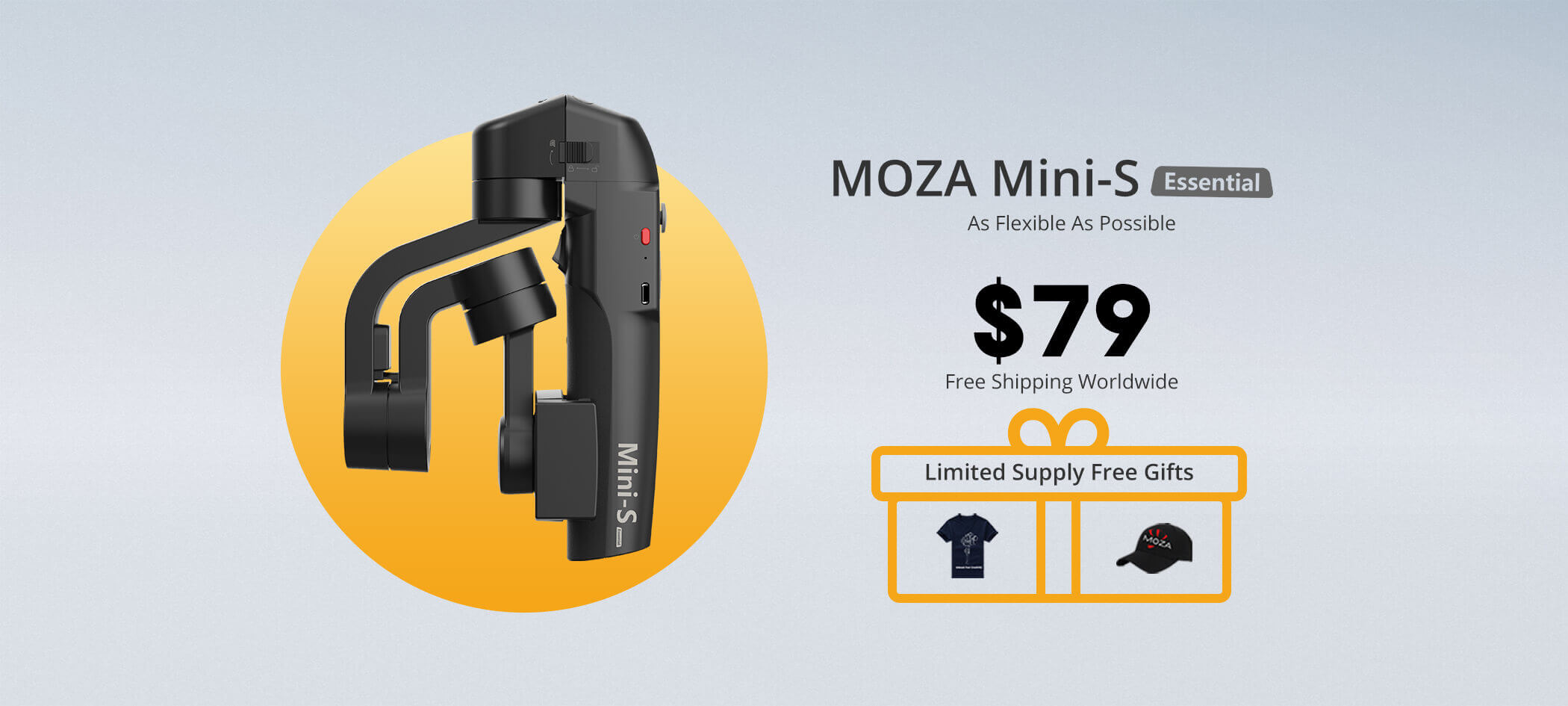 About Mini-S
Designed to be flexible, compact and user-friendly but packed with features included in the Mini-series gimbal line up, the MOZA Mini-S simplifies your filming experience with less time spent on setup and more time for your creative production while on the go.
Features:
Extremely Foldable
The foldable design of MOZA Mini-S makes it easy to store and carry without taking up valuable space. The max payload for Mini-S is 280g.
Filming Made Quick and Simple
Once the smartphone is mounted on the MOZA Mini-S, the no-tool adjustment algorithm can quickly set up the gimbal and balance the 3 axes without much intervention, saving you time and effort for filmmaking activities.
Many features packed into the MOZA Mini-S smartphone gimbal include one-button zoom, focus control and quick look-back(playback) to facilitate and simplify the operations even further.
Using the handle to control the camera of your phone and being able to switch from landscape to portrait mode for live streaming adds to the smooth, simple operation and design of the MOZA Mini-S.
Advanced Shooting Modes Plus Object Tracking
The MOZA Mini-S also boasts many cool shooting modes, including hyper-lapse, slow motion, Inception, spot gear mode, vertigo and many others. You can easily customize your creative filming style and create smooth and stable videos, making your footage individual to your imagination.
Creative Filming with the MOZA Genie App
The MOZA Mini-S can be connected to the MOZA Genie App with just one tap of your finger, making filming visually creative, interesting and enjoyable.
Portable. Compact, Ergonomic
Imitating the Leaning Tower of Pisa, the unique 10-degree lopsided contour lends an artistic and ergonomic touch to the shape of the MOZA Mini-S. This smart and compact outline offers a comfortable handheld experience and eliminates worry of your grip slipping.
Different Colors Meet Your Needs
To fit your lifestyle, MOZA Mini-S comes in two color styles: Black and White, offering a fresh and cool alternative to match your individual style.
For more information please kindly visit: https://www.gudsen.com/moza-mini-s