Gudsen MOZA, the world-famous brand in gimbal stabilizer, now unveils the new follow focus system iFocus-M, which is lighter and definitely your new affordable choice for filmmaking.
With a series of previous upgrade and accessories coming forth, the MOZA family now embraces the new member. IFocus-M supplements the iFocus line to offer an alternative to those who want less burden and regardless of App control (disabled due to Bluetooth remove).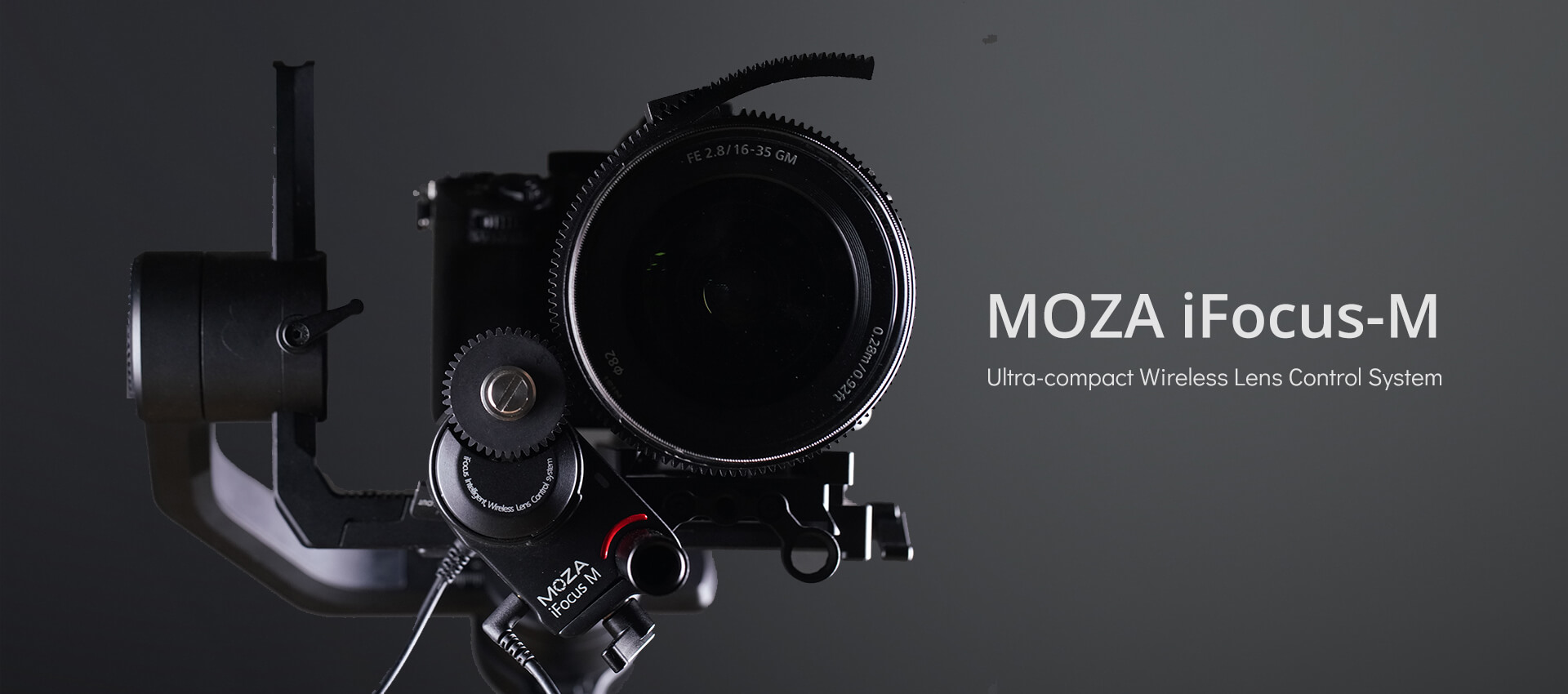 iFocus-M features advantages you need most:
Super Compact. Ultra-lightweight
Compactly designed, the iFocus-M is small in size, big in stature. With a body of only 88g, the gimbal balance is not affected by this minimal weight increase.
Powerful yet Quiet
The Micro brushless motor has superior torque with low noise providing confident and reliable control. The iFocus-M gives you both power and accuracy. Precision fitted bearings and gears keep quiet even at high speed, ensuring your recording is completely unaffected.
Easy to Use
The iFocus-M is specially customized for the MOZA Air 2 eliminating the need for extra adapters and troublesome calibration. After connecting to the Air 2, the gimbal powers the iFocus-M removing addition battery requirements and restrictions.
The 4th Axis of Focus & Zoom Control
When used with the MOZA Air 2, the iFocus-M becomes the fourth axis and an additional shooting tool for the gimbal, therefore users can control focus, zoom and iris of most DSLRs and mirrorless cameras via the gimbal handgrip.
Intelligent Operations with the Optional Handunit
The iFocus-M is able to pair with the handunit to wirelessly control the lens up to 100 meters.
Detailed features: 1. OLED Display 2. Intelligent Guidance 3. Adjustable Endpoints
More Compatibility. More Choices
In addition to the Air 2, the iFocus-M can be mounted on other MOZA gimbals and other brands of camera stabilizers (extra adapters are needed), providing creators with more choices.
About Gudsen MOZA
Gudsen is an innovative video-making equipment provider specializing in creating high-tech camera stabilizers and accessories and offering effective stabilization solution for the videography industry. We have successfully launched several impressive MOZA 3-Axis handheld camera stabilizers with advanced technologies that can support a wide range of cameras from small-sized action camera to professional large-sized cinema cameras. Our product line includes MOZA Air X, MOZA Air 2, MOZA Mini-S, MOZA Mini-MI, MOZA Air, MOZA AirCross, MOZA 2P, MOZA Pro, MOZA Guru360 Air, and MOZA Accessories. Our vision is "invented for Video" with innovative & high-quality products as well as exceptional customer service.
MOZA official website: https://www.gudsen.com/
Facebook: https://www.facebook.com/gudsenmoza
YouTube: https://www.youtube.com/c/MOZAGimbal
Instagram: https://www.instagram.com/gudsenmoza/
Marketing Business: marketing@gudsen.com