Following on from the recent and successful release of the MOZA Air 2, Gudsen MOZA has once again taken the gimbal market to new heights with its latest flagship the MOZA Air X. With a complete reinvention of the traditional gimbal design, the MOZA Air X made a big splash at Photokina 2018 and showed once again that Gudsen MOZA is a major competitor with world class and ground breaking designs.
The MOZA Air X integrates high-precision attitude algorithms, intelligent motion control technology, advanced motor technology, wireless video transmission technology, future material technology, and other' black technologies' with a novel folding submachine gun type body design. It is the ultimate filmmaking tool designed for cinema cameras. The MOZA Air X weighs in at 1.4kg. With reinforced rigidity and aerospace grade carbon fiber gimbal arms, the Air X can carry a payload of 13lbs (6kg). Add to this a battery life of up to 20+ hours and PD fast charging technology (fully charge Air X's battery in only 1.5 hours) the lightweight gimbal can easily accommodate large payloads for extended periods of filming time.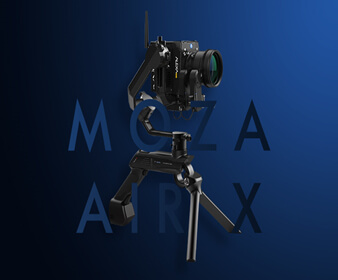 The optimized dual hand-held design, inverted mode design and clever Foldable design features give the MOZA Air X a unique and satisfying equilibrium between form and function. There is no doubt that the MOZA Air X will be a milestone in the evolution of film production equipment by changing its six usage forms with the introduction of aerospace materials, advanced motors, fusing the new Deep Red algorithm and having unlimited potential for intelligent expansion.
The MOZA Air X's new easy to use foldable machine gun style design allows the gimbal to be folded and unfolded quickly and freely with the reliability accustomed to the Gudsen brand. This unique set up allows you to begin filming quickly and efficiently. Once folded the 17 inch MOZA Air X is your portable toolbox reducing your equipment load and making it easy to transport from location to location
The MOZA Air X's advanced camera movement system creates a 6-axis movement design and gives the stabilizer a flexible and changeable control experience. Six high-precision and high-power density motors control the tilt axis, roll axis, pan axis, focus axis, zoom axis and slider axis of the gimbal. Under the six-axis movement, Air X can accommodate various working modes, and multiple sensors can accurately sense camera posture and adjust parameters in real time.
The innovative detachable wireless thumb controller perfectly matches the various motion forms of the Air X to achieve a feel of somatosensory control and allow for features like remote focusing. With the Air X's wireless thumb controller or the smartphone App you have full control of the six-axis movement in real time, planning out the shooting trajectory, freely combining multiple following modes along with automatic focusing, automatic zooming and other shooting modes.
MOZA Air X maintains the excellent time-lapse functions known throughout the MOZA brand of products. Whether it is time-lapse, hyper-lapse, long exposure time-lapse or zoom time-lapse, the MOZA Air X can easily shoot smooth and stable videos. The Air X also continues to allow cool video shooting styles and effects such as inception mode, sport gear mode, FPV mode, object tracking, auto-zoom, auto-focus, vertigo shooting and so on. In addition, long exposure and panoramic shooting are also possible. There is also a low-latency wireless video transmission system to ensure wireless transmission of high-definition images, making shooting and creation more convenient and reliable.
Thanks to the precise control technology of the MOZA Deep Red algorithm, MOZA Air X can adjust the camera weight and parameters intelligently and automatically. The onboard intelligence will constantly diagnose and maintain the gimbals state, adjusting the balance so that the Air X is always in an efficient and stable working condition.
About Gudsen MOZA
Gudsen is an innovative video-making equipment provider specializing in creating high-tech camera stabilizers and accessories and offering effective stabilization solution for the videography industry. We have successfully launched several impressive MOZA 3-Axis handheld camera stabilizers with advanced technologies that can support a wide range of cameras from small-sized action camera to professional large-sized cinema cameras. Our product line includes MOZA Air X, MOZA Air 2, MOZA Mini-MI, MOZA Air, MOZA AirCross, MOZA 2P, MOZA Pro, MOZA Guru360 Air, and MOZA Accessories. Our vision is "invented for Video" with innovative & high-quality products as well as exceptional customer service.
To know more about MOZA Air X: https://www.gudsen.com/moza-air-x