Dear friends,
Thank you for your attention. It's our great honor to announce this exciting news that our team will push the new item, MOZA Air 2 in September, 2018. The brand new sleek design and powerful performance with a versatile and adaptable modular ecosystem built-in make it charming and more productive, which will bring you ultimate experience and amazing effect. And it becomes more powerful and adaptable designed with wide adaptability, high payload and long working time batteries. The perfect design set a more simple and charming impression, which will bring more comfortable and creative photography.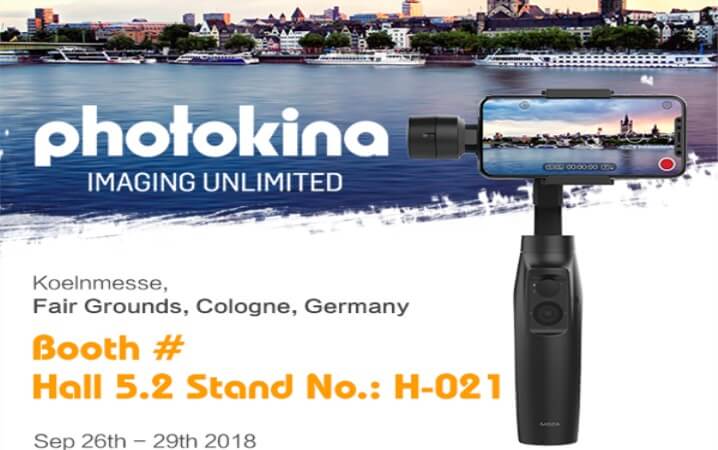 It will be on and meet the public with our great pride and high standard at Photokina 2018. Let's witness the miracle brought by MOZA Air 2 together and enjoy the visual feast in this grand and amazing show.
Venue: Koelnmesse, Fair Grounds, Cologne, Germany
MOZA Booth No: Hall 5.2, Booth H-021.
Dates: 26th Sept. - 29th Sept. 2018
Beside the new product, here we also kindly introduce some popular products: MOZA Air, MOZA AirCross, MOZA Mini-MI, MOZA Lite 2P.
MOZA Air has powerful motor function compatible with any common DSLR and mirrorless cameras. The wireless thumb controller creates a more ingenious way of control for users. Auto-tuning and real-time calibration and roll-follow mode for Tilt Shooting realize the dynamic time-lapse photography and catch every amazing movement.
MOZA AirCross's ergonomically-designed handgrip enables you operate and control all the shooting process and modes. The 8 follow modes and simple operation help you create any effect you want.
MOZA Mini-MI features stunning motion timelapse Video and live streaming which is popular to the young people to record and share every wonderful moment. And easy switch from landscape mode to portrait mode anytime assists you to create perfect works in whatever shooting.
MOZA Lite 2P with powerful motors combined with super-efficient sensors provides exceptional accuracy and best stabilization performance. Three operation modes: underslung, upright, and briefcase, allowing the MOZA Lite 2 to be used in a wide variety of scenarios.
The sleek design and powerful performance are our constant motion to improve and perfect our item. To bring ultimate experience for photographers, we invite quite a few visitors and experienced photographers with many great works. We come here to enjoy the wonderful video works and communicate about the photography skills and share experience.
To show our items better, you can try them out yourself and we will be here to help you answer any question you want to know.
For further information regarding our products and exhibitions,
please email us: marketing@gudsen.com
We're looking forward to welcoming you to our booth at Photokina 2018!
Gudsen MOZA Team