Dear friends,
We are so honored and happy to announce that the newest product, MOZA Air 2, will be launched in September. It's the upgraded version of MOZA Air and its wide adaptability and high payload makes it capable for almost any common DSLR and mirrorless cameras.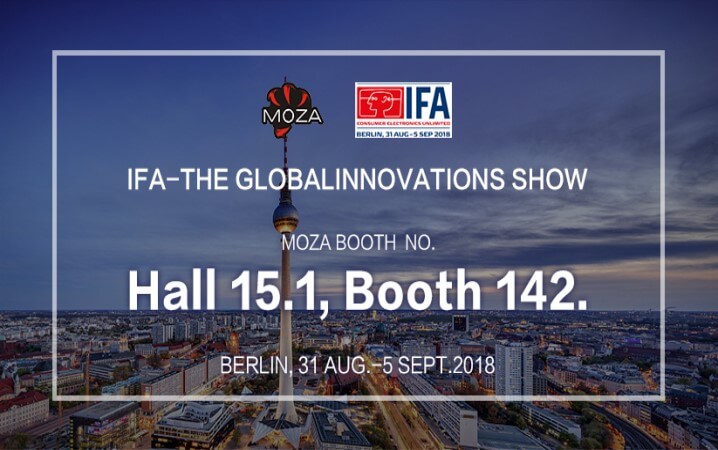 To supply better shooting experience, MOZA Air 2 equipped with long working time batteries and unlimited power source supports your camera for all-day use and no worries of no power any more. For the updated technology, multiple intelligent shooting modes supply more possibilities for photographers in whatever way shooting. And the inception mode, sport gear mode and FPV will create dreamlike footage and never miss any movement without delay. The built-in auto-tuning calibration can help you adjust it to optimal balance, which brings great convenience and excellent experience.
It will bring you brand new experience and great surprise. And it will meet public at IFA 2018 soon and we are looking forward to enjoying the most influential and amazing show.
Venue: Berlin Exhibition Center, Germany
MOZA Booth No: Hall 15.1, Booth 142.
Dates: 31st Aug. - 5th Sept. 2018
Beside the new updated item, here are other most prevalent products: MOZA Air, MOZA AirCross, MOZA Mini-MI, MOZA Lite 2P. All they get good reputations from the customers. MOZA Air with sleek design and powerful performance has quick release system for easier detachment and attachment and the shoot motion time-lapse with MOZA assistant app can smooth, dynamic time-lapse video.
The MOZA AirCross designed with the most compact, ultra-lightweight and portable camera stabilization system supplies unlimited power source for camera and gimbal. As for the MOZA Mini-Mi, it supplies smooth zoom control and focus control, which will unleash your creative potential and bring you professional-grade and wonderful experience.
In the course of the IFA in 2018, we will host quite a few activities to invite more visitors and photographers to have a communication about shooting experience and skills of using devices. And we will also display some video works to appreciate and discuss for visitors, let's enjoy the visual feast and have fun.
After you enjoy the wonderful amazing video works, you can try our most prevalent products to experience the shooting process and learn the professional skills. We can drink and have a friendly chat to know each other better, here we will also answer any question you concerned about for the items.
For further information regarding our products and exhibition, please email us: marketing@gudsen.com
We're looking forward to welcoming you to our booth at IFA 2018!
Gudsen MOZA Team