Gudsen MOZA, the innovative imaging solutions provider, will offer discounted prices on its products and accessories for its spring promotion. MOZA will have exclusive offers available for those ready to purchase the gimbal. You can receive the special offer on MOZA Air 2, MOZA Slypod and MOZA Mini-Mi. MOZA's 2020 Spring Promotion will be available from March 23, 00:00 ( PST) to April 30, 23:59 ( PST).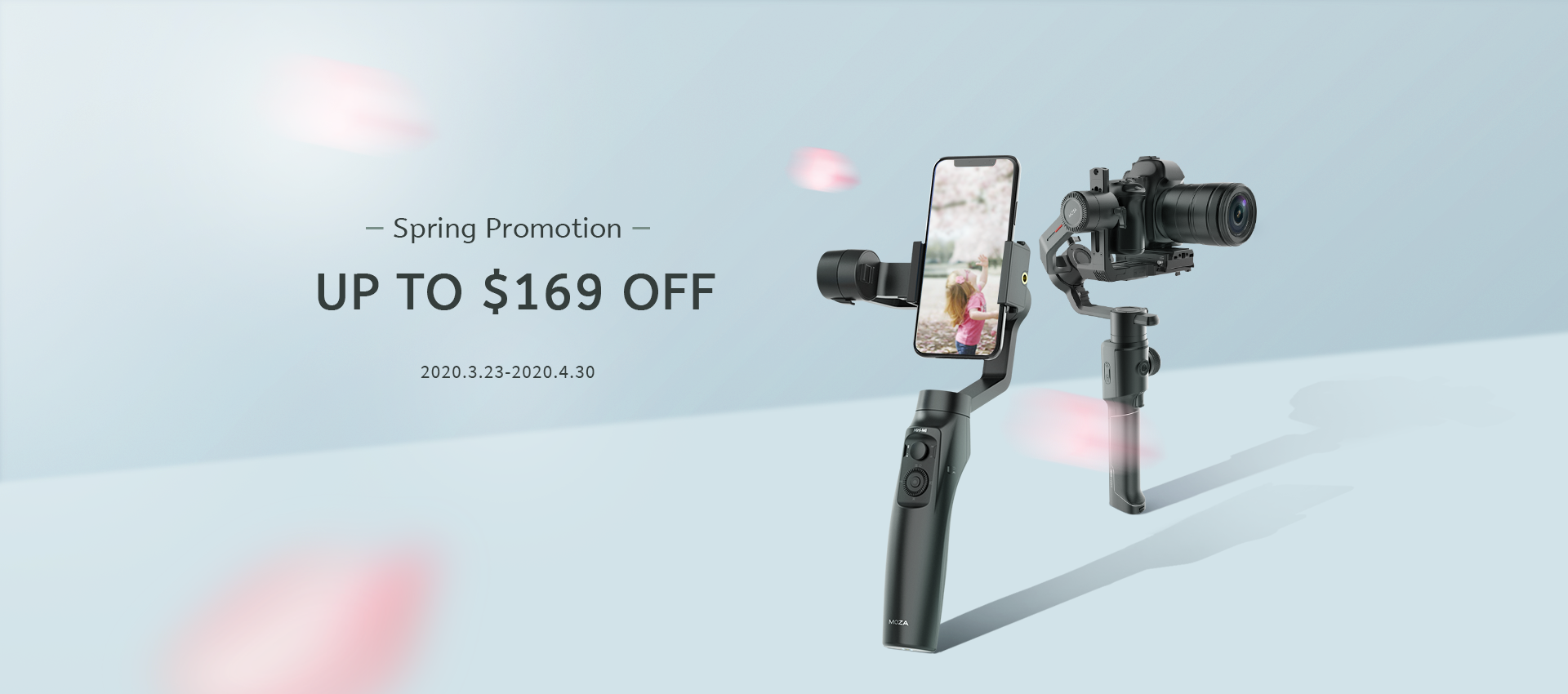 For Spring promotional price details, please refer to the chart below.
| | | |
| --- | --- | --- |
| Gimbal | Discount | Promotion price (USD ) |
| | (23.5% off) | $718 $549 |
| | (10% off) | $99 $89 |
| | (12% off) | $499 $439 |
MOZA Air2 – For DSLR, Mirrorless and Pocket Cinema Cameras
MOZA Air 2, the 3-Axis Hand-Held Gimbal Stabilizer, is an excellent companion to the Nikon Z 6, offering versatility, compatibility, and reliability to filmmakers. Featuring a maximum 9 lbs payload capacity and with 16-hour battery life, Smart Time-lapse, 8 Follow Modes, Intelligent Operations, Compact Design, and the entire MOZA Ecosystem including iFocus (Intelligent Wireless Follow Focus System), MOZA Air2 can unleash all your visual creativity.
For more info:https://store.gudsen.com/products/moza-air-2
MOZA Mini-MI – The World's First Wireless Phone Charging Gimbal
MOZA Mini-MI features stunning motion timelapse video and Live Streaming which is popular for young people to record and share every wonderful moment. Easily switch from landscape mode to portrait mode anytime to create perfect shots in whatever you are shooting. It supplies smooth zoom control and focus control, which will unleash your creative potential and bring you professional-grade video and wonderful cinema experience. Whether you are a professional filmmaker or amateur videographer, you can use it to maximize your creativity to create perfect videos with great passion!
For more info:https://store.gudsen.com/products/moza-mini-mi
MOZA Slypod – The World's First 2-in-1 Motorized Slider and Monopod

It's the world's first motorized monopod that delivers accurate slider motion control, helping photographers do more with less. Crafted with lightweight carbon fiber material and powered by an ultra-high energy density motor, the Slypod smoothly and gracefully extends and retracts its reach.
For more info:https://store.gudsen.com/products/moza-slypod
MOZA's 2020 Spring promotion will be available on MOZA's official online store and retail stores. Don't miss out!
For more info:https://store.gudsen.com/pages/spring-promotion