Gudsen MOZA, the innovative imaging solutions provider, will offer discounted prices on its products and accessories, as part of its Black Friday promotion. MOZA will have exclusive offers available on Black Friday for those ready to purchase the gimbal. Come join the biggest sales event of the year. You can receive the special offer on MOZA AirCross 2 Professional Kit, MOZA AirCross 2, MOZA Air 2, MOZA Mini-MI, MOZA Mini-S, MOZA AirCross, and MOZA Air. MOZA's Black Friday Promotion will be available from November 20, 00:00 ( PST) to December 7, 23:59 ( PST).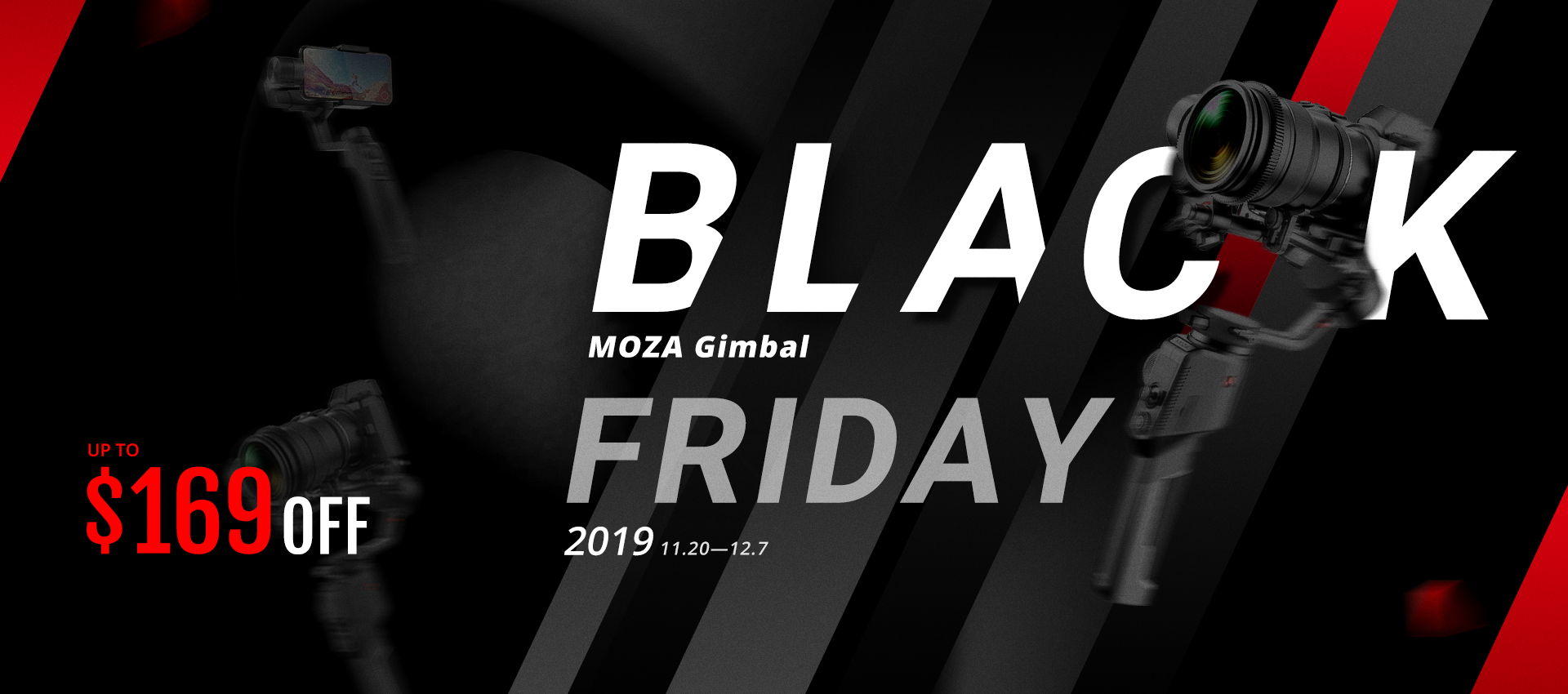 For Black Friday promotional price details, please refer to the chart below.
| | | |
| --- | --- | --- |
| Gimbal | Discount | Black Friday Sale (USD ) |
| | (10% off) | $519 $469 |
| | (11% off) | $449 $399 |
| | (23.5% off) | $718 $549 |
| | (10% off) | $99 $89 |
| | (13% off) | $79 $69 |
| | (9% off) | $349 $319 |
| | (15% off) | $399 $339 |

MOZA AirCross 2– The lightweight and powerful gimbal with better compatibility
The magnesium-alloy integrated technology allows MOZA AirCross 2 to provide robust performance at just 950g (2 lbs) and can achieve seamless cinematic shots with one hand. Featuring a superior motor with a 3.2kg (7 lbs) payload capacity, the MOZA AirCross 2 is capable of supporting most mirrorless and DSLR cameras on the market. Featuring a larger camera mounting space, the MOZA AirCross 2 is compatible with a wide range of cameras and lens. The advanced software technology allows you to set up the roll arm of MOZA AirCross 2 at either side, allowing the camera to be mounted from the left or right side, which helps to change the center of gravity of the bearing and making balancing easier. Paired with a MOZA Slypod and FPV Mode, you can create swooping cinematic shots all at the ease of your fingertips!
For more info: https://store.gudsen.com/products/moza-aircross-2
MOZA Air2– For DSLR, Mirrorless and Pocket Cinema Cameras
MOZA Air 2, the 3-Axis Hand-Held Gimbal Stabilizer, is an excellent companion to the Nikon Z 6, offering versatility, compatibility, and reliability to filmmakers. Featuring a maximum 9 lbs payload capacity and with 16-hour battery life, Smart Time-lapse, 8 Follow Modes, Intelligent Operations, Compact Design, and the entire MOZA Ecosystem including iFocus (Intelligent Wireless Follow Focus System), MOZA Air2 can unleash all your visual creativity.
For more info: https://store.gudsen.com/products/moza-air-2
MOZA Mini-MI – The World's First Wireless Phone Charging Gimbal
MOZA Mini-MI features stunning motion timelapse video and Live Streaming which is popular for young people to record and share every wonderful moment. Easily switch from landscape mode to portrait mode anytime to create perfect shots in whatever you are shooting. It supplies smooth zoom control and focus control, which will unleash your creative potential and bring you professional-grade video and wonderful cinema experience. Whether you are a professional filmmaker or amateur videographer, you can use it to maximize your creativity to create perfect videos with great passion!
For more info: https://store.gudsen.com/products/moza-mini-mi
MOZA Mini-S – Extremely Foldable
The MOZA Mini-S simplifies your filming experience with less time spent on setup and more time for your creative production while on the go. The MOZA Mini-S can be extended to 18 inches, giving you a perfect vantage point to capture those precious moments. The MOZA Mini-S gets to the heart of usability and simplicity while maintaining its goal for a user-friendly and versatile experience.
For more info: https://store.gudsen.com/products/moza-mini-s
MOZA AirCross – Invented for Mirrorless Camera
The MOZA AirCross designed with the most compact, ultra-lightweight and portable camera stabilization system supplies an unlimited power source for camera and gimbal.
For more info: https://store.gudsen.com/products/moza-aircross
MOZA Air – The Smartest Camera Stabilization and Control System for Mirrorless Camera and DSLRs
The MOZA Air features the same advanced technology and high-quality materials as the MOZA Lite 2, but with an enhanced appearance and improved stabilization performance. Made from aerospace industry-grade aluminum, it weighs just 2.4 lbs (1.1 kgs). The sleek, unified design has no exposed wires, compact structure, solid aluminum construction, and powerful, automobile-grade motors with high-resolution encoders makes it the most reliable camera gimbal in the industry.
For more info: https://store.gudsen.com/products/moza-air
MOZA's Black Friday Promotion will be available on MOZA's official online store and retail stores.
There will be exciting giveaway events to be announced in https://store.gudsen.com/pages/moza-black-firday-2019. Stay tuned! Join our Black Friday promotion event and customers will have the chance to receive the additional prizes during the promotional period. Stay tuned for the MOZA Black Friday Deals!