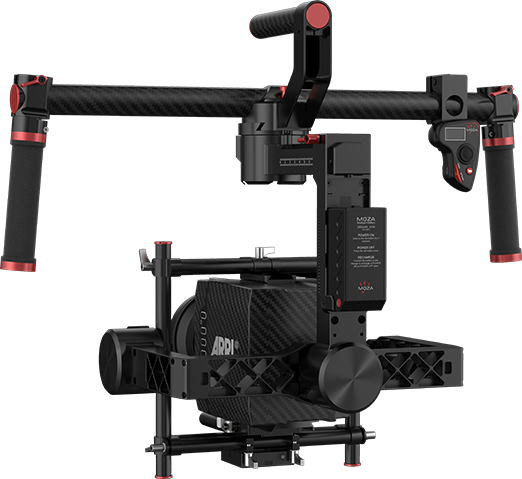 Light. Durable. Sleek
The MOZA Pro features revolutionary surface and design construction that meets the high demands of professional cinematography. The addition of an environmentally-friendly coating offers a sleek finish. Machined from solid magnesiumaluminum- the strongest alloy ever used in the aerospace industry for its superior rigidity, the gimbal is unbelievablyas light as 3.3 kilograms, yet durable enough to handle your tough shooting projects of everyday use.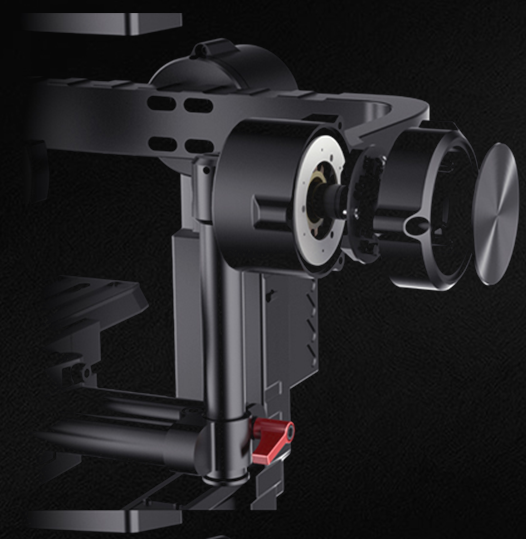 Weighs Less. Loads More.
Made from the same grade of magnesium alloy used in theaerospace industry, the MOZA Pro has a superbly solid yet lightweight frame. Weighing only 2.2kg (4.8lbs), this lightweight gimbal has a max payload of 5.0kg (11.0lbs). It is the optimal choice for a wide range of cameras, from mirrorless devices to professional cinema cameras, such as the Sony a7s, Panasonic GH4, Canon 5D Mark III, Canon 1DX, BMPC, Red Dragon, ALEXA Mini, etc.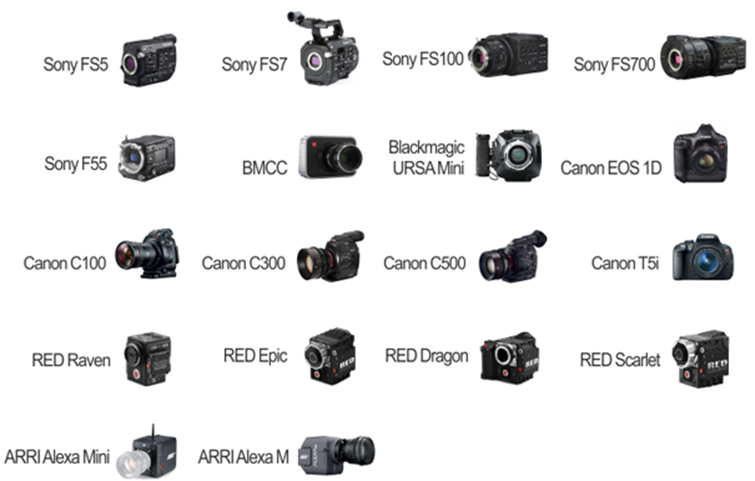 SUPPORTED CAMERAS
The MOZA Pro professional stabilizer is designed for use on movie and television productions, music videos, and more.With a max payload of 10.0kg, it has become the go-to optical photographic device for professional cinematographers and filmmakersalike. It is able to support large, heavy cinema cameras such as the BMCC, BMD USRA Mini, Canon C100/C300, Sony FS5, RED Epic, ARRI Alexa Mini, and more.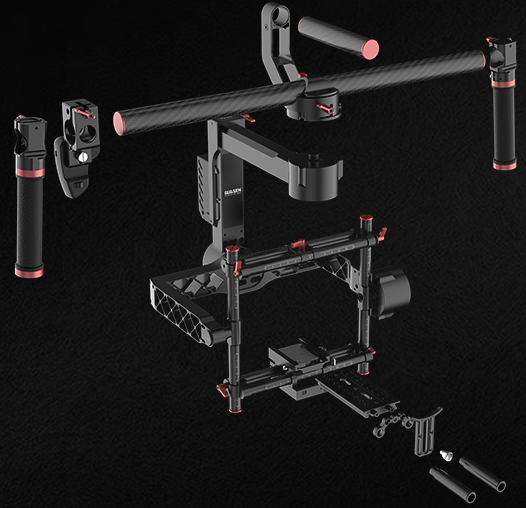 Simple and Fast
To save your shooting time and improve your video production efficiency, the MOZA Pro has implemented a tool-less design and modular construction. No additional tools or complicated skills are necessary. It takes just three minutes to set up the gimbal and adjust the balance. Once the camera configuration is done, you're ready to shoot!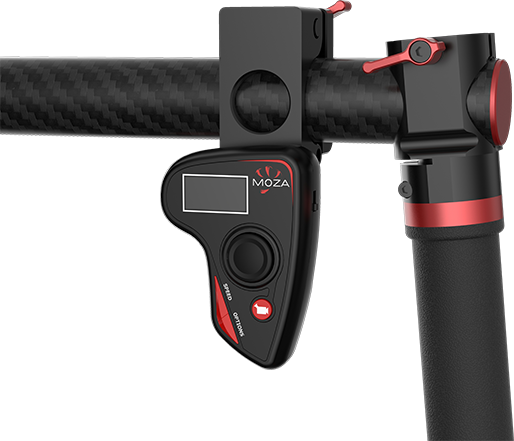 Wireless Control. Turnig Settings
With an optional wireless thumb controller, camera and gimbal control and parameter adjustment are just at your fingertips. Wirelessly control the camera recording and gimbal movement,and change movement speed and adjust camera focus using the joystick and buttons located on the unit. It comes with an OLED display that clearly shows the battery level, controller menu, recording status, control mode, and speed stage. When the unit is clamped to the handle bar, it can be wirelessly controlled by a single operator. The remote control range for a second operator can reach up to 100 meters.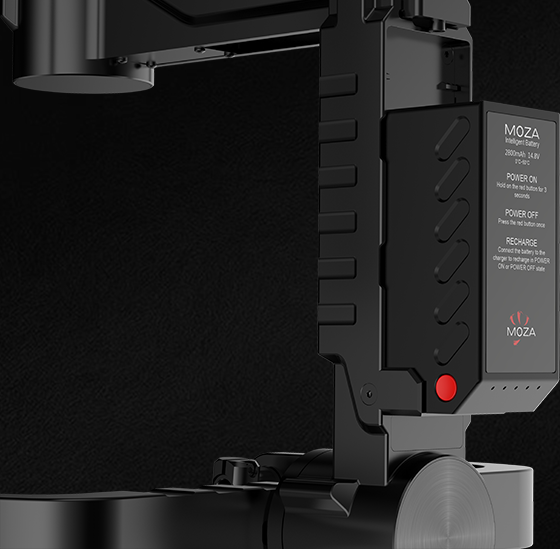 Longer-lasting battery. Up to 4 hours of Battery Life
The MOZA Pro is powered with an intelligent battery. The battery cells in the gimbal are the same type used in Tesla motorcars, which ensures their reliability and quality. Thanks to the high-performance motors, the MOZA Pro can last up to four hours. The large capacity 2800mAh battery gives you the power to get through your longest shoots. Its overcharge and over-depletion protection greatly reduces any potential safety hazards, setting you free!
Flexible Operation Modes
The MOZA Pro's flexible operation mode lets you do your best work in even the most severe shooting environments. Find the most comfortable one for your unique conditions.
Upright Mode

Also known as inverted mode, Upright is best for situations where the captured subject is at or above eye level. Just flip the gimbal upside down to get the best shooting angle.

Briefcase Mode

Briefcase mode is great for filming movement near the ground or shooting in narrow spaces. Carry the gimbal close to the side of your leg, just like a briefcase.

Underslung Mode

As the standard mode, Underslung is widely applied in conventional shooting. The camera captures all the footage you need. All you have to do is hold the MOZA Pro in front of you at chest level.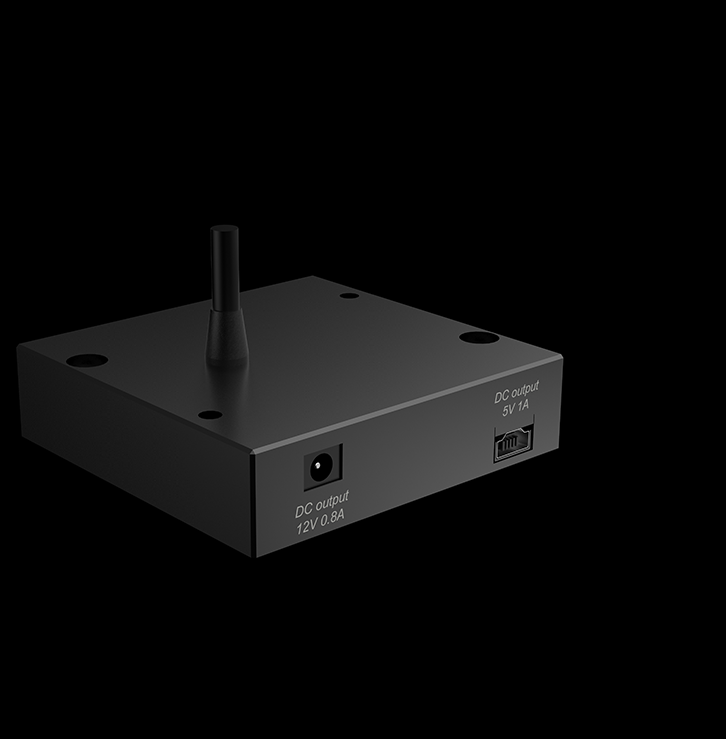 External Power Source and Expandable Connections
The bottom of the MOZA Pro houses a compact power distribution unit that supplies power to accessories and offers a variety of expansion options. A regulated 5V-1A USB connector and 12V-0.8A DC port provide external power to accessories such as the video transmitter, follow focus device, etc.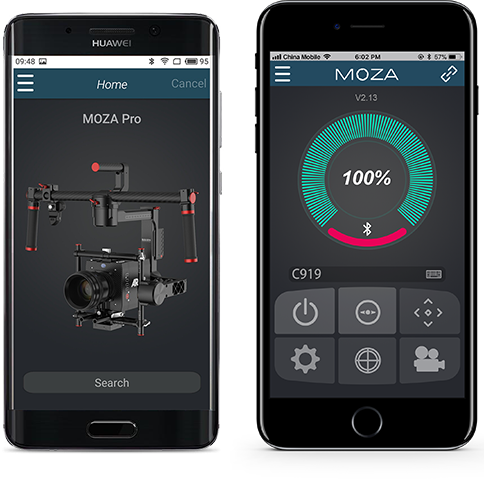 MOZA Assistant App and Software
The MOZA Pro comes with the custom-designed MOZA Assistantthat configures the gimbal stabilizer via Bluetooth. The Assistant works on multiple operating systems, including iOS, Android, Windows, and Mac OS X. This unique app features parameter tuning, viewing device information, sensor calibration, and gimbal control, and can be downloaded from the Apple Store and Google Play. Firmware upgrading can also be accessible with thesoftware by connecting to computer.


Copyright © 2015-2021 Gudsen Technology Co., Ltd. All rights reserved.